Villa Mazura
Villa Mazura
Villa Mazura
Villa Mazura is an original, over a hundred year old, Masurian cottage. It was built by Mr. Otto Raffel in 1879, we bought it from his daughter when she left Poland, retiring to a family in Germany. The cottage was completely renovated by us, the farm buildings were demolished and the entire farm was transformed into a recreation area. Villa Mazura is more than a hundred meter high cottage in which there are two bedrooms, a living room, a large living room with kitchen and bathroom. On the plot there is a large world with tables and benches (meals in the open air) and a recreational area consisting of a swing, fireplace and table with benches for sitting. We give you a wonderful place where the whole family can rest. The cottage is located in the village of Liwa, it is a large village built on a German plan (houses on the street). In the village there are two shops, shopping on site every holiday and Sunday free of trade.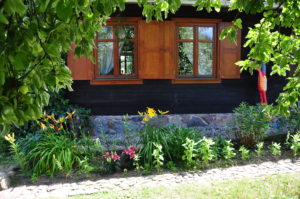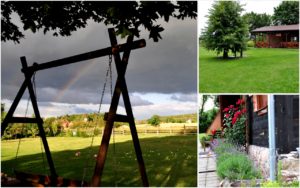 There is no water in the area, and hence, there are no mosquitoes or other troublesome insects (Liwa is a village of forest workers). The nearest lake has to be reached by bicycle or car, the Ostróda-Elbląg Canal with a large lock is also close by. The nearest town is Miłomłyn, where there are two large shops, and Ostróda where you can take a walk along the boulevard on the Drwęckie Lake and take advantage of one of the many restaurants (and other attractions).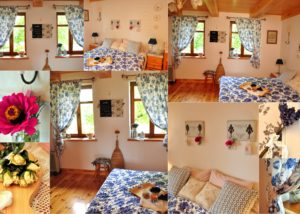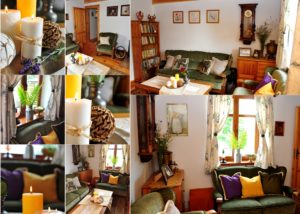 What we offer?
You are renting the entire place from us, in a cottage, four adults and two children will comfortably spend time. The cottage has a fully equipped kitchen with fridge, microwave and electric hob. The bathroom has a shower and two smaller and larger baby baths (and additionally a washing machine). The bedrooms have TVs with terrestrial digital TV. Heating in the cottage is two tiled stoves and two goats and additionally electric heaters (this is why it is not a year-round facility). On the plot there is also a vegetable garden that you can use and many fruit trees and shrubs. The plot is huge (2880 m2), you can play football and other games, the forest is at your fingertips.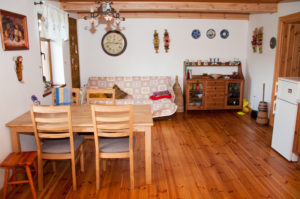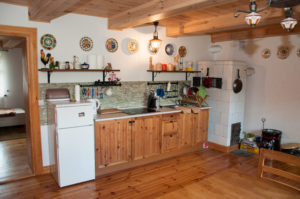 What do we not offer?
This is not a hotel or agritourism, it is a flat for rent. This means that there is catering on your side and keeping order during rest. We provide clean bed sheets, towels and firewood (and tile stoves).
How much is it?
The cost of rent for four people (or less) is PLN 300 per day during the holiday season. Above four people, the cost of renting the whole summer resort is PLN 350 a day. The costs depend on the length of rest, the number of people and are each time negotiated individually. We anticipate a discount for mowing the grass (we provide a self-propelled petrol mower) 🙂
All matters related to renting are best dealt with through our offer on the Airbnb portal.
You're welcome!
Dom jest duży, zadbany, duże i komfortowe sypialnie, kuchnia wyposażona praktycznie we wszystko co potrzebne. Podwórko ogromne, jest gdzie pograć w piłkę lub badmintona, raj dla dzieci, duża ilość zabawek, rowerków itp. Piękne nasadzenia wokół domu cieszące oczy. Świetnie urządzone miejsce na ognisko i altana na grilla. Wspaniałe miejsce do relaksu i odpoczynku, wokół tylko śpiew skowronków. W pobliżu piękne trasy rowerowe. Plaża i plac zabaw w Miłomłynie . We wsi sklep dobrze zaopatrzony, natomiast w Miłomłynie jest Biedronka i Lewiatan. Polecam bo miejsce jest idealne !! 🙂

This is a very cosy house with huge garden. Perfect for a stay with a small group or especially with small kids. Communication with Piotr was fast and on point. It's not a lonely house in the woods, if you're looking for this. But the neighbors are nice, so no problem with that. We enjoyed our stay and would come back someday.

Świetne miejsce na odpoczynek dla całej rodziny! W okolicy jest mnóstwo atrakcji. Na działce można rozpalić ognisko, grać w piłkę, a nawet zjeść owoce prosto z krzaka. Domek jest bardzo przytulny i zadbany. Jeździmy tam co rok, a dzieci nie mogą się doczekać kolejnego pobytu 🙂 Bardzo polecam!

Super miejsce, cisza i spokój, można po prostu odpocząć od zgiełku miasta, usiąść na huśtawce, bujać się i patrzeć na rozciągające się wokół pola i lasy. Wieczorem posiedzieć przy ognisku, uciec kiełbaski i obserwować wschodzący nad lasem księżyc. Dom w pełni wyposażony, ze sobą należy zabrać tylko rzeczy osobiste oraz dobry humor 🙂 byliśmy tam całą rodziną i na pewno jeszcze nie raz wrócimy 🙂

Our stay at Villa Mazura was a real pleasure. The house is large, kept in very good condition despite its age (which only adds to its charm), with stylish details inside and outside. Fully equipped, also for a larger group than 4 people. In addition to the standard equipment, there are a lot of items that you can use (eg toys for children). On the property there is a place for bonfire with wood, barbecue (small one), pleasant gazebo, deckchairs, a swing, vegetables and fruit in the garden and pleeeeenty of space. And the view of the forest and meadow allows the eyes to rest. Peace and quiet. And additionally, easy access, a supermarket nearby, and a little further a larger city (Miłomłyn) with a wider market facilities.
Good area for running, cycling, hiking.

Super miejsce na odpoczynek dla całej rodziny. Bez względu na pogodę można tam odpocząć, zrelaksować się, zrobić grilla, posiedzieć w dużej altanie czy nawet zrobić ognisko. Można się też wybrać na grzyby lub pojeździć rowerem. Okolica urocza:-)
Lokalizacja jest świetnym miejscem startowym do zwiedzania wielu atrakcji Mazur i Warmii. Polecam serdecznie:-)))

Przepiękny mazurski dom w malowniczej cichej wiosce wyróżniający się architekturą, zadbanym obejściem i pięknym ogrodem. Funkcjonalny, wygodny, czysty, klimatyczny. Na uwagę zasługują folklorystyczne detale dekorujące wnętrze domu i ogrodu. Wokół trasy piesze i rowerowe. Blisko wiele atrakcji turystycznych w okolicznych miasteczkach, Iławie, Ostródzie. Niedaleko sklep dobrze zaopatrzony - Lewiatan. Profesjonalny, troskliwy gospodarz. W ogrodzie warzywa, zioła, z których dzięki uprzejmości gospodarza można korzystać. Zdecydowanie polecam.