Villa Mazura
Villa Mazura
Villa Mazura
Villa Mazura is an original, over a hundred year old, Masurian cottage. It was built by Mr. Otto Raffel in 1879, we bought it from his daughter when she left Poland, retiring to a family in Germany. The cottage was completely renovated by us, the farm buildings were demolished and the entire farm was transformed into a recreation area. Villa Mazura is more than a hundred meter high cottage in which there are two bedrooms, a living room, a large living room with kitchen and bathroom. On the plot there is a large world with tables and benches (meals in the open air) and a recreational area consisting of a swing, fireplace and table with benches for sitting. We give you a wonderful place where the whole family can rest. The cottage is located in the village of Liwa, it is a large village built on a German plan (houses on the street). In the village there are two shops, shopping on site every holiday and Sunday free of trade.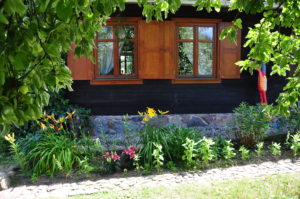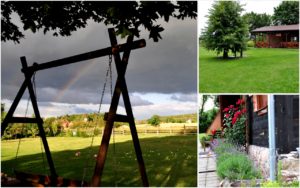 There is no water in the area, and hence, there are no mosquitoes or other troublesome insects (Liwa is a village of forest workers). The nearest lake has to be reached by bicycle or car, the Ostróda-Elbląg Canal with a large lock is also close by. The nearest town is Miłomłyn, where there are two large shops, and Ostróda where you can take a walk along the boulevard on the Drwęckie Lake and take advantage of one of the many restaurants (and other attractions).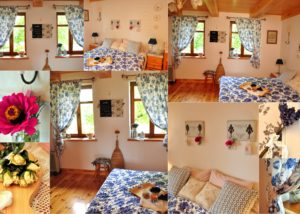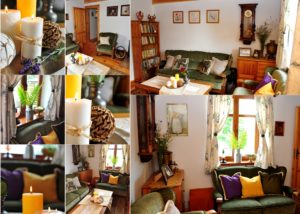 What we offer?
You are renting the entire place from us, in a cottage, four adults and two children will comfortably spend time. The cottage has a fully equipped kitchen with fridge, microwave and electric hob. The bathroom has a shower and two smaller and larger baby baths (and additionally a washing machine). The bedrooms have TVs with terrestrial digital TV. Heating in the cottage is two tiled stoves and two goats and additionally electric heaters (this is why it is not a year-round facility). On the plot there is also a vegetable garden that you can use and many fruit trees and shrubs. The plot is huge (2880 m2), you can play football and other games, the forest is at your fingertips.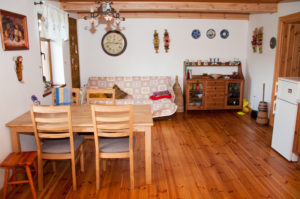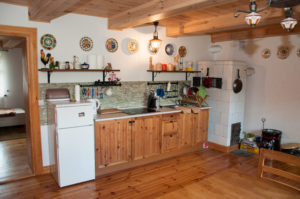 What do we not offer?
This is not a hotel or agritourism, it is a flat for rent. This means that there is catering on your side and keeping order during rest. We provide clean bed sheets, towels and firewood (and tile stoves).
How much is it?
The cost of rent for four people (or less) is PLN 300 per day during the holiday season. Above four people, the cost of renting the whole summer resort is PLN 350 a day. The costs depend on the length of rest, the number of people and are each time negotiated individually. We anticipate a discount for mowing the grass (we provide a self-propelled petrol mower) 🙂
All matters related to renting are best dealt with through our offer on the Airbnb portal.
You're welcome!