Villa Mazura
Villa Mazura
Villa Mazura
Villa Mazura is an original, over a hundred year old, Masurian cottage. It was built by Mr. Otto Raffel in 1879, we bought it from his daughter when she left Poland, retiring to a family in Germany. The cottage was completely renovated by us, the farm buildings were demolished and the entire farm was transformed into a recreation area. Villa Mazura is more than a hundred meter high cottage in which there are two bedrooms, a living room, a large living room with kitchen and bathroom. On the plot there is a large world with tables and benches (meals in the open air) and a recreational area consisting of a swing, fireplace and table with benches for sitting. We give you a wonderful place where the whole family can rest. The cottage is located in the village of Liwa, it is a large village built on a German plan (houses on the street). In the village there are two shops, shopping on site every holiday and Sunday free of trade.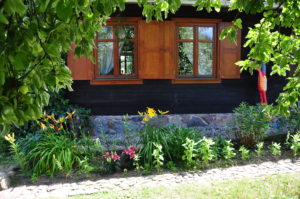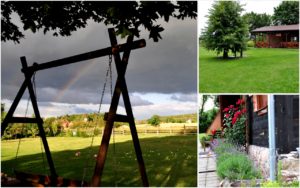 There is no water in the area, and hence, there are no mosquitoes or other troublesome insects (Liwa is a village of forest workers). The nearest lake has to be reached by bicycle or car, the Ostróda-Elbląg Canal with a large lock is also close by. The nearest town is Miłomłyn, where there are two large shops, and Ostróda where you can take a walk along the boulevard on the Drwęckie Lake and take advantage of one of the many restaurants (and other attractions).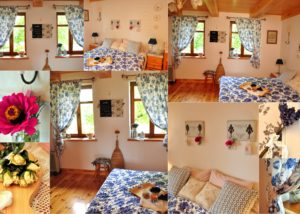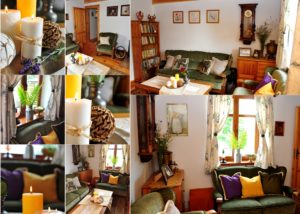 What we offer?
You are renting the entire place from us, in a cottage, four adults and two children will comfortably spend time. The cottage has a fully equipped kitchen with fridge, microwave and electric hob. The bathroom has a shower and two smaller and larger baby baths (and additionally a washing machine). The bedrooms have TVs with terrestrial digital TV. Heating in the cottage is two tiled stoves and two goats and additionally electric heaters (this is why it is not a year-round facility). On the plot there is also a vegetable garden that you can use and many fruit trees and shrubs. The plot is huge (2880 m2), you can play football and other games, the forest is at your fingertips.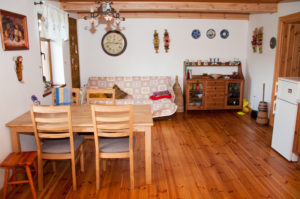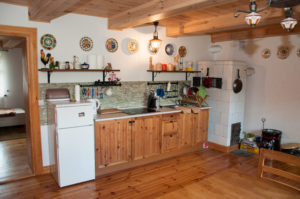 What do we not offer?
This is not a hotel or agritourism, it is a flat for rent. This means that there is catering on your side and keeping order during rest. We provide clean bed sheets, towels and firewood (and tile stoves).
How much is it?
The cost of rent for four people (or less) is PLN 300 per day during the holiday season. Above four people, the cost of renting the whole summer resort is PLN 350 a day. The costs depend on the length of rest, the number of people and are each time negotiated individually. We anticipate a discount for mowing the grass (we provide a self-propelled petrol mower) 🙂
All matters related to renting are best dealt with through our offer on the Airbnb portal.
You're welcome!
Szczerze polecam! Świetnie odrestaurowany dom z ogromnym terenem wokół. Czysto, schludnie, obiekt bardzo dobrze wyposażony. Niedaleko lokalny sklep, większe "markety" 5 minut jazdy samochodem. Zadbana plaża i pomost w Miłomłynie w podobnej odległości. Kontakt z gospodarzem wzorowy 🙂

Wraz z rodziną i pieskiem spędziliśmy wspaniały tydzień w willi Mazura. Drewniana chata została zaaranżowana w taki sposób, że łączy w sobie klimat dawnych czasów z nowoczesną infrastrukturą i wygodami. Wszystkie pomieszczenia są przestronne i doskonale wyposażone. Przestronne sypialnie są wyposażone w telewizory, duża kuchnia pełni też rolę pokoju dziennego, dzięki dużemu stołowi i kanapie. Mimo upałów, w środku domu panował miły chłód. Wifi działało bez zarzutu. Ogród jest duży i naturalny. Wspaniały widok na pole i las. Dom dosłownie tonie w kwiatach. W altanie można schronić się przed słońcem i zrobić grilla, a obok niej - rozpalić ognisko, korzystając z przygotowanego drewna. Komunikacja z panem Piotrem była nienaganna i błyskawiczna. Z wielką przyjemnością polecamy ten dom, sami też chętnie do niego wrócimy, bo wypoczywa się tu wspaniale.

Dla chcących na jakiś czas oderwać się od szybkiego życia - ideał. Bardzo czysto, wszystko działało. Kuchnia jakby spod żyletki. Korzystaliśmy ze wszystkiego, łącznie z pieczeniem ciast. Kontakt z p. Piotrem bardzo efektywny. Czuliśmy się prowadzeni za rękę ze wszystkimi sugestiami. Na działce rosną różne drzewa i krzewy owocowe: śliwy, jabłonie, agrest, porzeczka, grusze. Można korzystać z tych wspaniałych owoców. We wsi jest blisko do świetnie zaopatrzonego sklepu, czynnego również w niedziele. Wokół można znaleźć wiele dobrze oznakowanych tras rowerowych. Czuliśmy się oderwani od świata przez ten tydzień. Nie chciało się wyjeżdżać.

Piotr's place is a cozy, quiet place with all you need for a longer stay with your family. We spent a great time playing in the garden with our little daughter and preparing sausages on the outdoor campfire in the evenings. Greatly equipped kitchen and good wifi. Nice shop nearby. Quiet area. Highly recommended and would love to be back in the future!

Wspaniałe miejsce: piękny, zabytkowy dom, ale odnowiony i bardzo wygodny. Cudowny ogród. Cisza i spokój. Blisko do lasów i terenów zielonych. W pobliżu sklep spożywczy, a 10 min autem Miłomłyn z licznymi sklepami. W odległości 20 km Ostróda. Bardzo cicho, komfortowo i niezwykle przyjemnie. Świetny kontakt z gospodarzem. Bardzo polecamy!